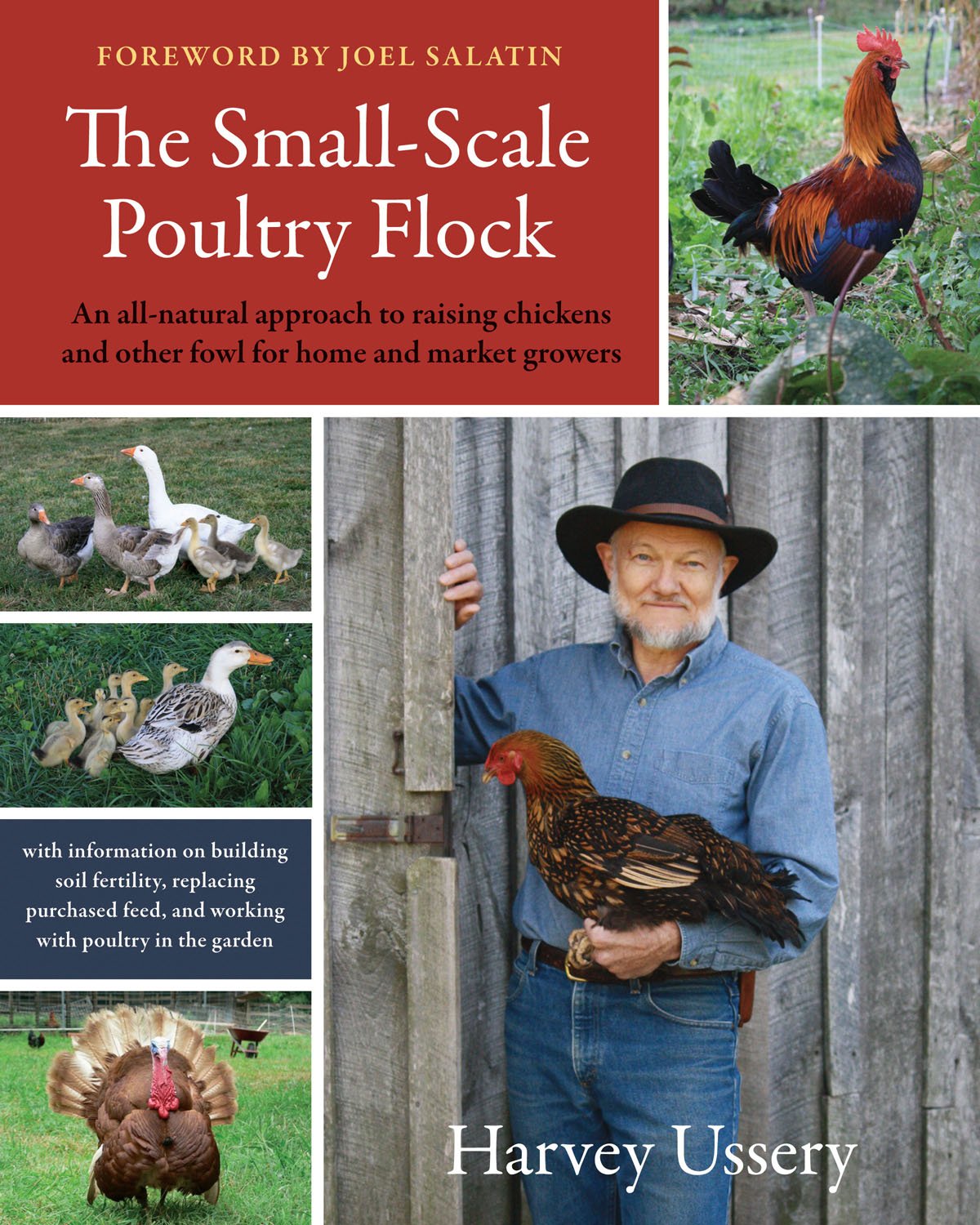 I've got a bit of a problem today. This is a review of a book that's worthy of all the gushing I can muster up. But there's also a credibility issue. I want my readers to trust that my opinion can't be bought, and that what you read here is my unbiased viewpoint. To that end I don't respond to offers of products in exchange for reviews. (The implicit expectation of course being, that the reviews would be positive.) While I have Amazon links to books and a few other products, these are for things I have paid for and been very pleased with, and am thus happy to recommend to others. I also link a couple of books at a time in the sidebar without endorsement, simply as books I'm reading. Few of those ever end up on my
Bookshelf
list, which I'm pretty choosy about.
So with that out of the way I have to disclose that I'm not wholly disinterested in the book I'm recommending today,
The Small-Scale Poultry Flock
. The author, Harvey Ussery, is the person I consider my chicken guru. Hearing his presentation at the PASA conference four and a half years ago is what convinced me to get started with a backyard flock. His enthusiasm for not only keeping chickens for meat or eggs, but using them in an integrated way around the homestead spoke deeply to me. A link to his non-blog
website
has been on my sidebar since Living The Frugal Life got started. I had the chance to see him at another small conference early last year. Speaking with me after his presentation, he mentioned that he had just secured a book contract for a title on small-scale poultry. I offered to review his book when it came out, fairly confident that I would be able to give it a glowing recommendation, which I can. He gave me his card and after that I began an intermittent email correspondence with him on poultry topics. What I didn't expect was for him to invite me to give feedback on the manuscript before it was even submitted to his editor. I was more than flattered to be asked and I happily devoured his first draft, offering what few comments and suggestions occurred to me.
Well, I had to wait for the finished copy to come out to see the pictures. The end result is fabulous; well worth the wait. Blows every other title I've seen on backyard chickens right out of the water. Harvey's view is both broader and deeper than the typical small-scale poultry guide. He considers the behaviors of various poultry species and how those behaviors are best incorporated to the benefit of the homestead and the homesteader. Harvey's approach to poultry husbandry is to build health into the flock from the ground up. Or rather, from below the surface of the soil on up. He believes, as I do, that healthy soils are the basis for all sustaining and sustainable food production. To that end, he manages his flocks so that they are able to express their full range of natural behaviors, and so they are always benefiting, rather than damaging, the soils they are on from day to day and month to month. He also has a discernible frugal streak, which obviously appeals to me. Both his frugality and his desire to provide healthy natural feeds to his livestock have led him to look for ways to feed poultry from the homestead's own resources. This is right up my alley, and a topic rarely addressed by other writers.
The Small-Scale Poultry Flock
will certainly help those who are poultry beginners. Though all aspects of keeping poultry are covered comprehensively in this book, it's not the equivalent of trying to drink from a firehose for anyone who has yet to start their first flock. If you are an aspiring backyard chicken keeper, this book contains everything you need to get started, plus a great deal more. This is really a book pitched to those who already have some experience with one or two poultry species, who want to take things to the next level or beyond. I'm not speaking here in terms of flock size, but of integration - specifically, fully utilizing the labor potential of poultry, reducing the need for purchased feeds, recognizing and using the fertilizing value of manure, and choosing species, breeds and management practices to best suit a particular bit of earth. Harvey is a tireless observer of the natural world, as well as a keen experimenter. What he has to share has been learned through decades of trial and error and empirical observation of his livestock.
I can wholeheartedly recommend this title to anyone who wants to keep chickens, turkeys, ducks, geese, or guinea hens on a small scale. Whether you want birds for meat or eggs, whether you want to start with pullets or hatch out your own chicks, whether you are on a small suburban lot or have a few acres in the country, whether you want to slaughter your own birds or are comfortable with running an old age home for hens past their productive years, this book should be on your bookshelf.
The Small-Scale Poultry Flock
makes the other two backyard poultry books I own look rather limited and simplistic.
As it happens, when Harvey's book was printed and bound I received one complimentary copy from him, and another from his publisher, Chelsea Green. Much as I love the book, I don't require two copies. So I'll be hosting a giveaway of my extra copy next week sometime. Stay tuned for the giveaway, plus some other news on this topic.